What is the PSAT?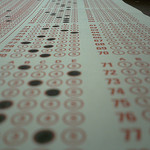 On Saturday, October 18th, many sophomores and juniors will be taking the PSAT.  Although the idea of voluntarily taking a test on a Saturday morning may seem absurd to most, the PSAT serves as a great practice for the SATs, and, for juniors, may even lead to a National Merit Scholarship.
So what exactly is the PSAT? The PSAT is the preliminary version of the SAT. It contains four 25-minute sections, two critical reading and two math, and one 30 minute writing section. Although the format is similar to the SAT, it is shorter, and slightly easier. The PSAT does not include an essay, and the math section does not include questions on Algebra II. The scoring is also slightly different on the PSAT. Each section, critical reading, writing, and math, is scored on a scale between 20 and 80 for a total score out of 240, whereas on the SAT, each section is scored in a range from 200-800 for a total score out of 2400.
For juniors, the PSAT also serves as the National Merit scholarship qualifying test. National Merit is a not-for profit scholarship program, providing students with $2500 grants as well as many scholarships from corporate and college sponsors. Fifty thousand students who take the PSAT qualify for National Merit based on a qualifying PSAT score. Next, 15,000 finalists are selected from the qualifiers through an application process. National Merit Finalists then go on to receive the scholarships. In the past, many CB South students have qualified and become finalists for the National Merit program, including nine finalists from just last year.
So how can you prepare for the PSAT, and possibly even snatch a National Merit scholarship? Practice, practice, practice. And a great way to practice is through a free, online ePrep account. EPrep offers test preparation materials for the PSAT, the SAT, and the ACT. On ePrep, you can learn vocabulary, take full practice tests, and watch videos with tips, explanations, and strategies. Mr. Pecic, CB South's librarian, reports that "students who use ePrep are much more likely to maximize their scoring potential." Over 1,000 CB South students already have ePrep accounts. Don't be left out! See Mr. Pecic in the library to make an ePrep account.
Sophomores and juniors, take advantage of this great opportunity to practice and receive feedback for the SAT's! Sign up for the PSATs in the sophomore and junior house offices for $19.