College Profile: West Chester University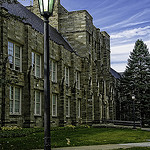 West Chester University, one of 14 state schools in Pennsylvania, is currently accepting applications from students wishing to attend in the spring and fall of 2015. Located at 700 S High St., West Chester, PA, WCU has been a popular university for CB South graduates for the past five years.
Whether it is through athletics, education, or scenery, WCU attracts a lot of students to its doors. Mrs. Taryn Barrett, a CB South guidance counselor, said West Chester is "one of the number one state schools that students have applied to." In fact, the amount of students applying to the school has consistently gone up since 2006, which shows its increasing popularity among students in South.
In 2006, 57 students applied, with about half being admitted and only nine actually attending. However, in 2014, the numbers went up substantially. One hundred-forty-five students applied and 94 were admitted, and the total number of students enrolled was 35.
"Cost has a lot to do with it. For the price of [its] education, it's a great way to go. Students seem to excel," said Mrs. Barrett. At $381 per credit, West Chester is an affordable school for kids from many families and backgrounds. With the cost and atmosphere of a state school, it still has all of the advantages of a private school, such as smaller-sized classrooms and flexibility with housing.
Along with cost, Mrs. Barrett said that location and social life also play a role in the University's high enrollment. With the school being located in the city of West Chester and an average enrollment of 15,000 students, students have a plethora of things to do.
In regard to majors, while Mrs. Barrett said there is "no particular major" that kids wish to go there for, she said that there are a lot of "education and music students" enrolled.
When looking at the West Chester spreadsheet from Naviance, which tracks the history of past applicants and their academic records, the average CB South student will generally need an SAT score of 1090(out of 1600 and a 3.46 GPA to be admitted. There are some outliers, but for the most part, this is what students should be striving for when applying to West Chester.
There are many students who plan on applying to West Chester this fall. Dan Remick, a senior from South, has West Chester as his first choice for college. He wants to major in personal training or business and said that the school has "a great price and an awesome campus," and he looks forward to receiving his application letter.
Another student looking to go to West Chester is senior Jack Marquis. Marquis also has West Chester as his leading school and plans to major in communications.
Additionally, there are some features of West Chester that some people might not know about. With the alumni association, the WCU foundation, and multiple clubs that support the community, West Chester prides itself on giving back to its city as well as other parts of the world.
For example, in the Honors College, 50 students are chosen every year to visit South Africa and experience the differences in a developing nation. Having given back to kids who are less fortunate, most students come back with a handful of stories and memories that last a lifetime.
West Chester also has a very prominent athletics program. There are over 20 men and women's collegiate sports teams ranging from women's rugby to men's football.
If students are not interested in participating in sports, West Chester provides several opportunities for students who want to get involved in the arts. Some of these include alumni band, the College of Visual & Performing Arts, and a range of cultural and community affairs, including WCU Live! This event gives students a taste of international art. Art majors create a painting or dance that showcases the culture of another country and present it to the student body at a showcase.
For more information, visit the University's website.