Miles for Music: Running on Music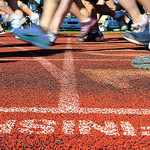 Miles for Music is an organization founded in New Jersey in which students, teachers, and families participate in a 5K or one-mile fun-run race in order to raise money for their music programs. At 2 PM on October 26, Miles for Music will hold its first annual race at Tyler State Park in Newtown, PA.
All of the proceeds from the race will be distributed to the music departments, who participate in order to create better learning environments, while enhancing the opportunities available to these programs. Mr. Stellino, the Central Bucks South choir director, says he is "looking forward to bringing outside musical groups, specifically a cappella [groups]," into the school to show students.
Mr. Stellino first found out about the event when a friend of his participated in a Miles for Music race in New Jersey. Mr. Stellino said he chose to fundraise through Miles for Music because he, "feel[s] strongly about health, especially for singers, when their bodies are their instruments."
Running alongside the CB South Choir are the two other high schools in the school district, CB East and West; four of the five middle schools for Central Bucks, Unami, Tamanened, Holicong, and Lenape; and other schools from both the Pennridge and Council Rock school districts.
On the day of the race, runners will be able to check in from 12:30 PM to  1:45 PM, at which time the 5K runners are scheduled to line up on the starting line. Runners will have around an hour to complete the 3.1 miles.
Before the runners start, a variety of a cappella groups will be performing  with a DJ to get the runners ready to begin.
As for the terms and conditions, baby-joggers and strollers will be allowed to run in the race but will be sent out in the final corral to keep runners from getting injured. Also, music is allowed but strongly discouraged, and if used, will disqualify the runner from placing in any medals or awards.
Along the course, there will be two water tables placed for runners to grab drinks as they go through the track.
According to the official Miles for Music website, spectators can view their loved ones participating in the race from the Festival Area.  Family members or friends can meet up with the runners after the race at the Refreshment Tent in the Festival Area.
Starting around 3 PM, families are invited to participate in one of the many entertaining activities that will be hosted in the Festival Area, featuring a dance-party during which kids and families can get their faces painted and learn Michael Jackson's "Thriller" dance.
Completing the day at Tyler State Park, there will be an awards ceremony for all placing runners. Medals will be given out by gender to the top three runners in fifteen different ranks.
All day, runners and their families will be able to go to Pizzeria Uno in Warrington, PA to raise money for more Miles for Music events to happen. In every "swag bag," there will be a 20% off coupon that can be used at the Warrington Uno on the day of the event.
Each "swag bag" will also include "coupons to local businesses, a nose flute, a Miles for Music hat, and other goodies."
In order to sign up and support the music departments, runners must go to milesformusic.org and click on the "register for Pennsylvania" tab. Registering online costs $25, while registering on the day of the event costs $30.
In addition to the run, Mr. Stellino encourages kids to join the choir because they are able to "have the teacher and classmates for three years, and build a sense of community." The choir will also host two other fundraisers at Pizzeria Uno in November and January.