Sophomores' Opinions of CB South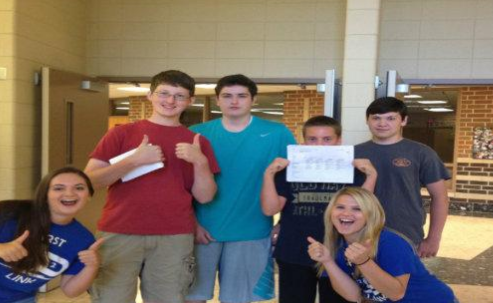 On September 2, sophomores flooded from the buses and searched the halls for their classes. Now, over a month into school, the new Titans have learned a lot about CB South.
Most sophomores, such as former Unami student Kevin DeMaioribus, say they like their new school,.
Kevin said he has had a good time at South so far. He has joined a few clubs such as Chemistry Club, Key Club, and operation Eternal Gratitude (OEG) and said that he really enjoys them.
Kevin, as well as many other sophomores, has also come to like his teachers, mentioning math teacher Mr. Chris McGlone in particular.
Furthermore, Kevin  said he likes the fact that South is much bigger than Unami, in part because it "feels less crowded." He also said South is "more laid back," and he likes that he does not have to use a locker and remember a combination to keep his things safe and instead just carries his backpack .
Other sophomores don't seem to miss middle school too much, either. Fellow sophomore Katelyn Wolfgang also said that high school was "more relaxed."
Another sophomore, Juliana Cirvello from Tamanend, said, "South has been better than I expected." However, she doesn't like the fact that she has a different lunch than some of her friends.
One of the things Juilana said she does like about South is that it has more "variety and class options" than in middle school.
Sophomore Rachel Stock from Unami said she likes the block schedule because "it's easier to concentrate on your classes when you have fewer."
However, some students say they do not like the block schedule because they find the blocks too long.
Many of the sophomores said their favorite things about South include being part of  "Titan Terror" at the football games and other sporting events. "I ask people from other schools if they have themes for their football games [like South does], and they don't," said Juliana. Similarly, Kevin Demaioribus said that he likes to go to the football games and "get rowdy."
Sophomores may like CB South, but it is important that they make their next three years here count. So who better than those who have already finished up two years at South to give some advice?
The seniors have lived the experience of being a sophomore and in some cases  have more valuable advice on  school than some of the teachers do. Five seniors offered their suggestions.
Danny Remick said it's important, whether joining a club or sport, to somehow "get involved."
Dikembe Wilkins's advice for sophomores is to "do your homework. Even though sometimes you might not want to do it, it'll pay off on your report card."
Dan Young agreed, adding, "Get all your work done during the week, and relax on the weekend. That way you won't get stressed."
Andrew Adames advised students "stay focused, humble, and hungry." Adames said he "couldn't get through [his] sophomore year without doing that."
Evan Becker's advice? "Don't get 'senioritis' until you're a senior."
Having just entered South, many sophomores say they are looking forward to their next three year here, whether it's the size of the school, "Titan Terror" at the sporting events, or just the fact that they're finally in high school.
Though they may have only just started high school at CB South,  the sophomores can use these tips from the upperclassmen to make their next three years a success.