The Man, the Myth, the Legend: Rob Ford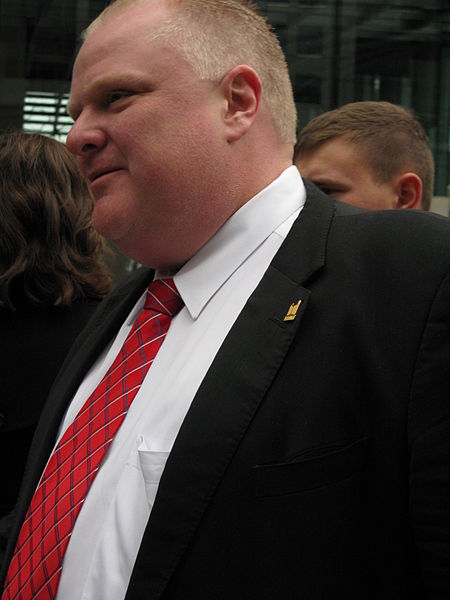 Recently the behavior of Rob Ford, the Mayor of Toronto, has been appearing in the news a lot. People are fascinated by the "Crack Smoking Mayor" and his antics.
All of the international attention started when a video of Mayor Ford smoking crack cocaine was release online in mid-2013. The crack cocaine incident was not the first substance abuse related incident for the Mayor.
In 1999, Rob Ford was arrested in Miami for driving under the influence and possession of marijuana. On April 15, 2006, Mayor Ford was escorted out of a Toronto Maple Leafs hockey game for being "visibly intoxicated and belligerent" and insulting the couple sitting behind him. Even though insulting someone is a serious Canadian offense, Ford was not in any real trouble.
In March 2012, after being elected Mayor, Rob Ford was "very intoxicated" at City Hall and held a "wild party" in his office. Ford knocked down a staffer, insulted people, and then stumbled to a local restaurant where he danced like a maniac on the dance floor. He then hailed a cab to take him to City Hall, where he insulted the driver with racial slurs. He was later removed from city hall because he was found stumbling around with a bottle of brandy and yelling profanity at city workers.
The list of things that the Mayor has done goes on and includes thing such as more drinking and accusations of sexual harassment.
On November 5, 2013, Mayor Ford said, "Yes, I have smoked crack cocaine but … am I an addict? No. Have I tried it? Um, probably in one of my drunken stupors, probably approximately about a year ago."
Mayor Ford is so popular because of his attitude towards his actions. He admits everything and is okay with the decisions he has made because he believes everyone makes mistakes.
I think that people are entertained by him because how many other politicians smoke crack and use drugs, use being "too drunk to remember" as an excuse, get into chases with impersonators, accuse reporters of being pedophiles, and knock city employees over by charging them like a bull?
Despite being stripped of his powers by the city, Mayor Ford will not resign and even plans to run for reelection. Hopefully he gets reelected so he can keep us entertained for years to come.
Leave a Comment