The Mural is Coming!
CB South's 2nd mural is entering its final stages.
It has been a long time coming.
The first interest meeting for the mural took place in June 2018, nearly a year and a half ago. For months afterwards, students brainstormed ideas for the mural, producing thousands of sketches.
All the sketches centered around the same theme: the CB South Titan.
With the Titan as inspiration, students started planning what the rest of the mural would look like. Stain glass was decided as the foreground of the mural, proudly displaying the Titan at the center.
With the design set, students began cutting out "parachute clothing" panels. These panels, six feet long by four feet high, each contain a section of the mural. At the end, these panels will be assembled together, producing one image.
There are 16 total panels.
If you noticed the large white canvas outside the attendance office, that's where the new mural will be. As you walk into the school everyday, you will be greeted by this enormous, colorful mural.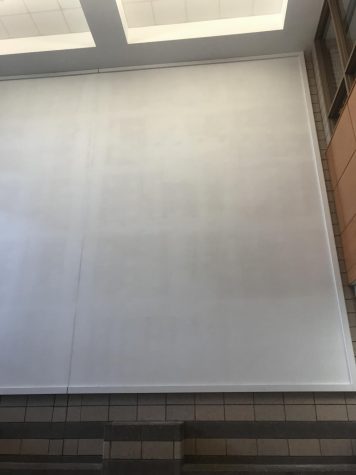 Mr. Kesilman and Mr. Balkit are the teacher advisers for the mural, who also headed the original mural a few years ago. Mr. Kesilman describes the mural as very "student-driven", as the students have been the ones actively designing and making decisions.
Currently, mural members are hard at work painting and rendering, adding final details to the spectacular and ambitious creation. If your an artist and you like to paint, the mural needs you!
The mural committee meets every week on Tuesdays, Wednesdays, and Thursdays in room B231 from 2:30-4. Come paint for as long as you can and check out the progress of CB South's latest artistic vision!