Blink-182: California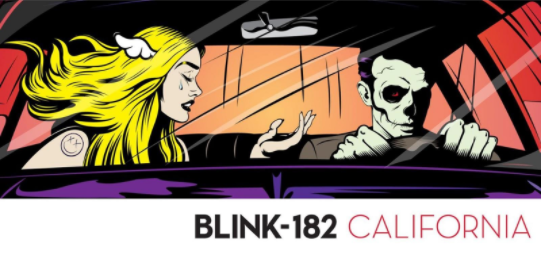 Blink-182 is making a comeback in 2016.
After a five year break from releasing music one of the most famous bands in rock made a triumphant return to the top of the music industry's highest esteemed charts with their lead single "Bored to Death", which previewed the release of their album California.
"Bored to Death" was Blink-182's first ever song to become a number one single. California, the band's seventh studio album, which was released on July first, has a total of 16 songs and a total run time of 42 minutes and 36 seconds.
It was their first chart-topping album in the United States in 15 years, and first ever in the UK.
Along with the hit single that foreshadowed the band's return, California features a new, inventive sound and a new band member, Matt Skiba.
The new sound is along the lines of modern alternative and is most likely due to the absence of long time band member and front-man, Tom DeLong.
Blink- 182 members have claimed that the lapse between albums is due to disagreements between the rest of the band and Tom DeLonge over the unproportioned time DeLonge is spending on his solo career as compared to time spent with the band.
The disagreement eventually led to Tom DeLonge's exit from Blink-182 altogether, and ultimately the introduction of new member Matt Skiba and re-invented sound.
The first song on the California soundtrack, "Cynical", is rumored to about the incident with Tom DeLong and his exit from the band.
Lines such as "Is there the slightest trace of what you once believed" and "What's the point of saying sorry now" seem to be directed at Tom DeLonge and only give the album even further significance in ushering in a new era of Blink-182 music.
The album enjoyed immense successful immediately after its release in July and soared to the top of the most bough albums chart within just weeks.
The fans reception to the album has been incredible, and with the release of California the fan base and the band's popularity has grown.
What has made this album such a success are the introspective lyrics, sound ranging from contemporary acoustic to hard rock while, maintaining a fast and exciting tempo, and the willingness of the band to explore new sounds while maintaining the feel that made them so successful in the first place.
California is Blink 182's most successful album to date, and for good reason, as the band has been putting in work on this album since September 2015.
Blink- 182 has revived itself with the release of California, and is likely looking towards a new, even more successful era.