Perspectives on Fatherhood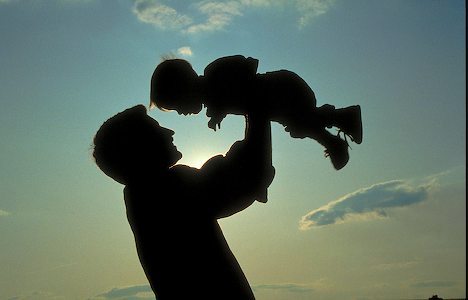 Hang on for a minute...we're trying to find some more stories you might like.
There comes a time in every man's life where he enters a new stage. He looks forwards into the great beyond, pondering what life has been, and what lies ahead.
When a man must retire his previous life in order to prepare for a child, he may let go of himself both literally and figuratively.
Hank, a local dad, describes his experience as a new father.
"When my little Danny was born, my life changed forever," Hank says. "After I held him in my arms for the first time, I immediately dropped everything and ran to my local Goodwill."
Goodwill, an American thrift store, is a popular pit stop for new fathers due to its versatile approach to typical dad fashion.
On his final transformation to fatherhood Hank says, "When I got to Goodwill, I went up to the counter and exclaimed, 'My first son was just born,' and the nice young man behind the counter, Ryan, I believe his name was, frantically rushed me to the men's section."
Hank then began to weep gently, he wiped his eyes lightly with a handkerchief and continued, "I then bought a beautiful pair of faded, secondhand Levis, a lavish pair of New Balance sneakers, already laced, that's rare… and, most importantly, an ethereal Life's Good T-shirt."
Hank then broke down, crying uncontrollably. We were unable to conclude our interview.
Later, we talked to Rand, a 60-year-old father of four, who is expecting a fifth child. Rand expressed a drastically different opinion, one more jaded and cynical than Hank's.
"Look, I love kids, I really do," Rand told us. "They're cute. They don't talk. And they crawl around on the rug like goddamn caterpillars."
Rand then took off his spectacles and began to pace around the room. We tried to calm him down but to no avail.
"What's not to love? Well, a lot really," Rand further observed. "For starters, they grow up to be little rotten thieves who break into your mattress; steal all your cash to jumpstart their laundromat businesses and then when the money comes pouring in, you don't get a cent of it."
Rand, being a firm believer that a parent should allow their kids full independence after the age of five, was understandably enraged by the topic.
"Look, I grew up in a different America, a better America," Rand fondly remembered. "I got lost in the woods and lived there for six years before my parents came to look for me," Rand said, losing his temper during the interview once again.
We then, again, had to calm him down. Luckily, our attempts proved more effective this time.
"Okay, I'm sorry, I'm cool now, okay? Will you put away the staple gun?" Rand graciously apologized.
Rand then proceeded to tell his riveting tale. "Where was I? Oh, and that was only when the police suspected them of murder that my folks came and scoped me from the backyard… damn near gave me a heart attack. I'd already been adopted by a pack of wolves and now, all of a sudden, these two pulpy, pink humans are saying they're my parents?"
After the interview, the crew locked up the office for the day and all went to the local coffee shop for a bite to eat. I went to the bathroom and saw a familiar shadow lurking in the mirror.
"Look, I don't want to discourage anyone who has a different opinion, but I just want them to listen to the right opinion," the shadow said. "Let your kids live in the woods, let them tap into their primal instinct. It'll make them better people. Look at me, I turned out fine. I turned out fine, right? Please, tell me I turned out fine."
The following day, we interviewed Calvin, a young, 22-year-old bachelor who has recently reunited with his son after being estranged for 14 years.
Calvin's son, Kevin, accompanied him to the interview.
"Kevin won't admit it, but we have a healthy, loving relationship," Calvin assured us. "I'm happy. Kevin's happy, too. Kevin, tell the people we're happy."
"This man isn't my real father," Kevin protested. "I'm, like, 98% sure of it."
The duo shortly got bored and left to 'hit up' a Taco Bell.
Fatherhood is undergone in different ways. Each overwhelmingly filled with love, compassion, adventure, and heart.
It's often said that a child needs a father. But sometimes we forget to stop and think that it may be the father who needs the child.